Rural Aging
The nation's population is aging, and with that change comes increased healthcare needs. According to the Centers for Disease Control and Prevention report, The State of Aging and Health in America 2013, the population 65 years and older is expected to double over the next 25 years, due to longer life spans and the large number of baby boomers reaching retirement age. The report identifies chronic disease as a burden on older adults that impacts both quality of life and healthcare costs.
On average, rural populations are older than populations in other parts of the country. Populations of older adults increase by level of rurality:
Source: Geographic Comparison Tables 0103 and 0104, 2011-2015 American Community Survey 5-Year Estimates
This map, based on 2010 Census Data, shows the percent of the population over 65 by county: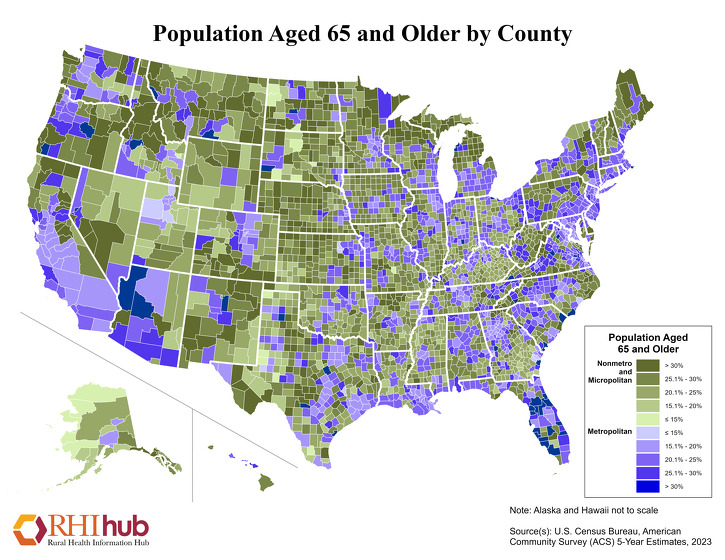 Older adults who live in rural areas have the same concerns related to healthcare access as other rural residents. They may also face challenges related to:
Transportation to medical appointments, grocery shopping, and other essential and leisure activities
Housing quality and affordability, including how to pay for needed repairs and modifications
Availability of home and community-based services and long-term care in their communities
Frequently Asked Questions
---
What resources are available to find services for older adults?
State and Area Agency on Aging (SAA/AAA) Finder – Each state has an agency on aging, which can help locate information and assistance for older adults
The Eldercare Locator, 1.800.677.1116, provides access to state and local organizations and services addressing a range of concerns, including housing, transportation, elder abuse prevention, and more
---
What types of food programs are available for rural seniors?
Rural older adults may benefit from a range of food assistance programs, including programs that provide group meals and food at home. For details, see RHIhub's Rural Hunger and Access to Healthy Food topic guide, What are some food assistance programs for seniors, such as home meal deliveries, in rural communities?
---
How might one find transportation to get to medical appointments in rural communities?
Information on transportation options for the disabled and the elderly should be available at local human service offices, local transit authorities, community and faith-based organizations, and regional planning organizations. Contact your local county social service agency, your community action agency, and/or call 2-1-1, to find out what programs are in your area. For additional resources, see Where can I get help finding local transportation programs and services? on RHIhub's Transportation to Support Rural Health Care topic guide.
---
Financial abuse amongst elders is a serious problem. Where can one go for help with this issue?
Financial abuse is the illegal or improper use of an elderly person's funds, property, or resources. There are many reasons an elderly person might fall into a financial abuse situation.
These might include not realizing the value of their assets and being unaware about financial matters, being dependent on others for help, being taken advantage of and being embarrassed to report a scam or financial abuse situation, and not understanding advances in technology which makes managing their finances more complicated. Here are a few resources regarding financial abuse and elders: