Federally Qualified Health Center Provides COVID-19 Care to Rural and Underserved Populations in Pennsylvania and Northeastern Ohio through Mobile Health Unit and Vaccine Hesitancy Work
What Happened
At the onset of the COVID-19 pandemic on March 13, 2020, Primary Health Network (PHN), a Federally Qualified Health Center (FQHC) serving rural areas in select counties across Pennsylvania and northeastern Ohio, quickly realized it had an important role to play in the region's pandemic response. PHN purchased a mobile health unit to allow healthcare staff to travel to communities in their service area to deliver COVID-19 testing and vaccination. They began by conducting testing in rural and underserved communities across the region. When vaccines for the COVID-19 virus became available in December 2020, Dr. George Garrow, Chief Executive Officer (CEO) at PHN, began community outreach to combat vaccine hesitancy and misinformation.
Garrow serves as the CEO of PHN and joined the organization in 2016 as the Chief Medical Officer (CMO). PHN was established as an FQHC, also known as a community health center, in the 1980s in a struggling steel town in western Pennsylvania. Since that time, it has grown to be the largest community health center in the state and one of the largest in the country.
PHN's administrative offices are located in Sharon, Pennsylvania, located in rural Mercer County. The FQHC has offices in 17 counties across Pennsylvania and northeastern Ohio. Many of the communities served by PHN are coal or steel mining towns in Appalachia — a historically underserved region that spans multiple states. PHN's COVID-19 response was carried out across all its locations, and the mobile health unit itself served as a traveling PHN site.
Planning
PHN maintained multiple emergency preparedness plans across the region. Different types of facilities in the network have different types of disaster preparedness plans based on the unique needs and makeup of each community. The PHN facility-specific emergency preparedness plans are designed to work in conjunction with other services in the area, such as emergency medical services (EMS) and hospital systems. Despite having these plans in place, PHN did not anticipate needing to enact emergency protocols at all 45 of its locations on the same day. The enormity of the COVID-19 pandemic in March 2020 took the FQHC by surprise. While there was some disaster and emergency planning across the network's region, the outbreak of COVID-19 forced PHN to "go big" in their response.
Response
When the first cases of the global COVID-19 pandemic arrived in the United States, PHN's clinical and administrative leaders assembled to develop a mitigation and response strategy. Services needed to quickly pivot so that the FQHC could continue to provide care for its patients. It was important to PHN to not abandon its patients, particularly those who were most vulnerable. Almost overnight, the FQHC shifted its services from in-person care to telehealth and virtual care.
PHN's COVID-19 response mantra emphasized 3 key points: availability, accessibility, and adaptability. Regarding both COVID-19 testing and vaccinations, the FQHC focused on making services available to communities, increasing opportunity and access to services, and adapting service delivery to the needs of a community. In mid-spring of 2020, when COVID-19 tests became widely available, PHN deployed a strategy to offer testing within rural communities. For many of the rural communities PHN serves, transportation to a testing facility or mass vaccination site was a concern. By purchasing the mobile health unit, PHN was able to resolve some of these issues by taking essential COVID-19-related healthcare services to where they were needed most.
PHN received funding from federal and state sources during the pandemic that made it possible for the FQHC to purchase the mobile health unit to aid in their COVID-19 response. The mobile health unit was highly efficient and could be set up in just 45 minutes. The unit's generators powered freezers that could keep the vaccines at the appropriate temperature and maintained negative airflow to prevent airborne viral spread. In December 2020, when COVID-19 vaccines were made available to the public, PHN held vaccination clinics and performed outreach using the mobile health unit, through which individuals registered and received inoculation in their communities.
Recovery
The lingering impacts of isolation and loneliness remain in rural communities as a consequence of the COVID-19 pandemic. As an FQHC, PHN screens its patients for social determinants of health (SDOH), such as transportation, food security, housing access, and more. However, one SDOH that surprised Garrow was the social impact of isolation on his patients. Many residents in rural communities lost touch with their families, friends, and loved ones during the COVID-19 pandemic, which contributed to increased depression and anxiety.
The pandemic uncovered mental health complications and created psychological stressors that continue to distress communities. Further compounding factors, such as the economy, put individuals in difficult positions where they may have to make tough choices about whether to put gas in their vehicles or feed their families, said Garrow. The need for continued behavioral health services remains, as individuals cope with stress, depression, anxiety, and other behavioral health concerns. The impact of the COVID-19 pandemic, noted Garrow, was not just the disease itself but also these secondary factors.
As PHN shifts from pandemic response to endemic management, they are retrofitting the mobile health unit so that the resource can be used to address community health problems beyond COVID-19. The FQHC plans to take mental health, dental, and physical medicine services into these same communities to continue addressing the health disparities in rural areas of Pennsylvania and northeastern Ohio. PHN's efforts are still evolving, said Garrow, and the FQHC is looking at all opportunities to take full advantage of the mobile health unit as a resource in the future. The needs of the communities are different in 2022 than they were in 2020 — however, COVID-19 remains a concern, and PHN is still performing testing, providing oral antivirals and infusions of monoclonal antibodies, administering vaccines, handing out masks, and distributing home testing kits throughout the region.
Success Factors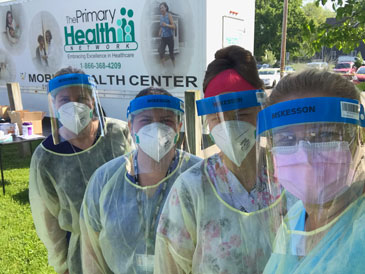 Mobile Care Delivery
In addition to community outreach via the mobile health unit, PHN also delivered vaccines to individuals who were homebound or bedbound at their place of residence. PHN found that these rural populations had very limited access to home health services. They were able to bridge that gap during the COVID-19 pandemic by meeting with individuals in their homes. The mobile health unit was an anchor around which essential COVID-19 mitigation efforts took place. Having access to a high-quality, readily adaptable mobile unit allowed PHN to deploy into rural communities in a way that would not have been possible without this resource.
PHN's adaptability approach was not just about the mobile health unit itself. More important was the work the FQHC was performing. Sometimes, noted Garrow, PHN did not have to take the mobile health unit out to a community in order to be successful. The success of the approach was not only about having access to the mobile health unit but in having the unit as a part of the mobile strategy.
Virtual Care Delivery
Fortunately, PHN had a good track record of telehealth visits before the COVID-19 pandemic began. The FQHC previously received a federal grant to explore ways of improving access to behavioral health services using telehealth for individuals who live in rural communities. Through this program, providers in urban areas were using telehealth to provide services to rural individuals. This virtual care model was easily adapted to expand beyond behavioral health services during the COVID-19 pandemic.
Community Outreach
PHN hosted multiple virtual town hall meetings with communities around the region, including church congregations, civic organizations, and farms. Garrow worked with trade unions and visited with steel plant workers during their lunch breaks, went to several worship services, and met with professional staff at barber shops and hair salons to discuss COVID-19 in the region. He held a session specifically for hair stylists because he realized they were trusted by people in the communities served by the FQHC and could facilitate important conversations about COVID-19 interventions. It was not easy to earn the trust of these community members, nor were any of them without doubts; however, if even one person was interested in getting a COVID-19 vaccine because of a conversation with their hair stylist, it was considered a success.
As a result of PHN's outreach and response efforts, Garrow believed the communities of rural Pennsylvania and northeastern Ohio learned more about the organization, its mission, and what the "heart and soul" of the FQHC and its team members were all about. Many of PHN's sites in rural areas across the region have received accolades and honors from civic organizations for their COVID-19 response and partnerships. Garrow wanted the FQHC to be a "beacon of positive light" in a time that was scary for everyone. He encouraged his team to lead with kindness and love so that they could show people they were there, as a part of the community, to support them.
Partnerships
PHN relied on and asked for assistance from many community partners through the COVID-19 pandemic response. These partnerships were reciprocal relationships, and the FQHC returned aid to community stakeholders. Some of the first partners that PHN worked with during the COVID-19 pandemic were the local county health departments in the region. The FQHC assisted the health departments with COVID-19 surveillance and testing early in the pandemic in 2020, to better understand the prevalence of the virus in the communities.
PHN also worked with social service agencies and other healthcare providers in the region to coordinate cooperative mass vaccination clinics, including ones specifically for underserved populations. The team at PHN traveled door-to-door in rural and underserved communities, made phone calls to community members, and talked to social service agencies to coordinate transportation for individuals who were unable to access care. All of this was done in collaboration with other hospitals, healthcare providers, and health systems in the area to increase the benefits of their efforts in communities. Executives from other health systems worked together with Garrow in a non-competitive environment to address the public health emergency at hand.
Serving the Amish Community
In Pennsylvania, many of the counties that PHN serves have large Amish populations. Due to their religious beliefs, the Amish have limited access to technology and had trouble accessing healthcare services when the FQHC pivoted to telehealth during the start of the COVID-19 pandemic. PHN deployed community health workers (CHWs), who already had established relationships with the Amish bishops, to deliver temporary access devices, such as smartphones or tablets, that would allow them to connect with healthcare providers when they were unable to come in person due to COVID-19 safety restrictions. The FQHC was able to maintain services, including primary, pediatric, and behavioral healthcare, to this unique community that Garrow described as "almost instantly disenfranchised" from healthcare access.
Supporting the Health Workforce
During the COVID-19 pandemic, a lot of new and daunting challenges emerged. No one knew what the outcome would be, but the response team at PHN supported one another, said Garrow. The FQHC instituted virtual yoga classes, tai chi sessions, and breathing exercises for its employees as a way to encourage self-care practices during the stressful time. Garrow emphasized self-care and resiliency, as he understood the COVID-19 pandemic would be a "marathon, not a sprint." PHN congratulated and honored both individuals within the FQHC and first responders in the community, providing recognition to heroes throughout the pandemic response.
Barriers
Transportation
Like in most rural communities, the issue of transportation barred many of PHN's patient populations from accessing COVID-19-related healthcare services. Many of the communities served do not offer public transportation as a municipal or county service. Normally, PHN offers transportation to its facilities — however, the FQHC halted transportation services during the COVID-19 pandemic to limit COVID-19 exposures for their transit drivers. Without a way to travel to a testing facility or mass vaccination center, the rural populations of Pennsylvania and northeastern Ohio were at a disadvantage during the COVID-19 pandemic. PHN developed a mobile strategy that combined telehealth approaches and the mobile health unit to take COVID-19-related healthcare where it was needed in communities.
The Emergence of Rural Cases
For much of the start of the COVID-19 pandemic and into the summer of 2020, many of the residents Garrow encountered did not consider the virus to be a significant threat in their rural communities. The pandemic was perceived as a big-city problem, noted Garrow, affecting the likes of Houston, New York City, and Seattle. In the fall of 2020, however, COVID-19 hit rural parts of Pennsylvania very hard. For many months into the fall and winter of 2020, the rural counties PHN serves were at the top of the list for COVID-19 cases per capita in Pennsylvania.
Trust
Once it was evident that COVID-19 was impacting rural residents in the region, PHN had a lot of work to do to regain the trust of individuals in the community. Vaccine hesitancy and skepticism, fueled by the rapid spread of misinformation regarding the COVID-19 pandemic, coupled with a loss of credibility for public health institutions in the early stages of the pandemic response, resulted in an atmosphere of distrust surrounding COVID-19 interventions. The degree and depth of community-wide vaccine hesitancy and loss of trust was something Garrow personally worked to address. He learned all that he could about the vaccines and their Food and Drug Administration (FDA) Emergency Use Authorization (EUA) applications because he felt that he had to fully understand the interventions before he could confidently explain them to someone else. Still, the degree to which some individuals would not accept or even consider COVID-19 vaccinations surprised Garrow. The mobile health unit was an incredibly important resource — as he pointed out, however, it would be useless if no one trusted PHN enough to utilize its services.
Social Determinants of Health
As an FQHC, PHN's mission is to provide access to healthcare to everyone, regardless of their ability to pay. Socioeconomic disadvantages, such as housing insecurity and language skills, can create barriers for healthcare delivery. To mitigate some of these challenges, PHN worked directly with shelters and other groups to provide services to people experiencing homelessness and people with limited English proficiency to ensure understanding of both COVID-19-specific guidance and other healthcare services in rural communities. Garrow shared that these underserved populations were and continue to be disproportionately impacted by the COVID-19 pandemic in the areas of Pennsylvania and northwestern Ohio that PHN serves. A lack of access to services and vaccine hesitancy or reluctance are a few factors that contribute to these disparities.
Lessons Learned
Community Needs
What Garrow found most helpful in building trust with a community was to listen. By asking what an individual's concerns were regarding COVID-19 vaccine uptake, listening to their experiences, and considering what communities were hearing from outside sources about the pandemic, he was able to better understand their points of view. He advised that being open, present, mindful, and nonjudgmental were key steps to building trust in the communities.
Partnerships
Collaboration within the community contributed to the overall success of PHN's mobile health unit COVID-19 vaccine and testing rollout. Garrow emphasized it was important to not be afraid to reach out to other organizations, agencies, and social services — through these partnerships, individual stakeholders, who were not previously associated in a traditional healthcare role, became involved. Thinking outside the box was key, noted Garrow: "Just because you've never done it before doesn't mean you shouldn't try it."
Advice
For FQHCs or other rural community organizations looking to implement similar programs, Garrow suggests:
Continuous Preparedness
In the future, there will be other public health emergencies, environmental disasters, and economic downturns that emerge. It is important to constantly explore ways to be best prepared. It is unknown what the next emergency will be, he noted, but having the ability to pivot quickly and identify which partner can be called in can help ensure efficient disaster response to address community needs.
Listening
It is important to understand what the community is asking for and assess the unique needs of each area. Healthcare workers should not assume they already know what the biggest needs are within a community or what interventions would be most effective. Ask community members directly how to help and what is needed to address their needs.
Self-Care
At all times, said Garrow, it is important that responders take care of themselves. Healthcare workers typically tend to be givers and want to help others, but in order to take care of others, you must take care of yourself. It was also important to Garrow, as a leader, to take the time to acknowledge a job well done, especially during stressful events such as the COVID-19 pandemic.
Person(s) Interviewed
George C. Garrow, M.D., Chief Executive Officer (CEO)
Primary Health Network
Opinions expressed are those of the interviewee(s) and do not necessarily reflect the views of the Rural Health Information Hub.