COVID-19 and Hurricane Sally Present Dual Threat in Gulf Shores, Alabama
What Happened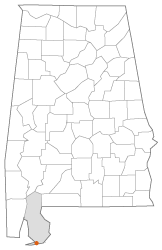 Hurricane Sally made landfall over the rural community of Gulf Shores, located in Baldwin County, Alabama, in September 2020. Gulf Shores is a popular tourist destination, with a permanent population of around 15,000. As a well-established community, Gulf Shores has weathered decades of hurricane seasons with relatively few casualties. Despite the city's good track record in disaster preparation, response, and recovery, Gulf Shores faced an added threat in the late summer of 2020: the COVID-19 pandemic.
According to a June 2021 Inside the Eye post from the National Hurricane Center (NHC), An Incredibly Busy Hurricane Season, the 2020 Atlantic hurricane season was one of the most active hurricane seasons in history with 30 named storms, including tropical storms and hurricanes. The United States was impacted by 13 of the named storms, causing a national total of $42 billion in damage. Hurricane Sally made landfall on the Alabama Gulf Coast on September 16, 2020, and was the first named storm to directly impact the community since Hurricane Ivan in 2004.
Hurricane Sally was projected to make landfall in coastal Louisiana as a category 1 storm, until it suddenly shifted east and increased intensity to category 2 as it came nearer to shore. This increase in intensity over land is uncommon, as storms typically tend to decelerate as they come ashore. However, Grant Brown, the Director of Recreation and Cultural Affairs in the city's mayoral office, noted a trend over the past couple of years in which storms have hit the coast and maintained or even gained strength in the shallow, warm waters of the Gulf of Mexico. Hurricane Sally's highest officially recorded wind speed was 103 mph, definitively a category 2 storm.
Brown also serves as the Public Information Officer (PIO) and heads Gulf Shores' media response and critical communications during weather events. Brown has served the city for 13 years and has been a member of the community for longer. As PIO, Brown is responsible for conveying alerts and warnings to the Gulf Shores community prior to an event such as a hurricane or tropical storm. The PIO stays in near-constant communication with city partners and the public during a natural disaster as well as through the completion of the recovery period following an event. Tropical storm updates from the city during Hurricane Sally chronicled their emergency communications issued during the storm.
According to a September 2020 National Weather Service report, Baldwin County and the Gulf Coast to the western Florida Panhandle received between 15 and 30 inches of rain due to the slow movement of Hurricane Sally. Even though the wind speeds for this storm were category 2, the large amounts of rainfall saturated the ground, causing decades-old live oak trees to catch in the wind and tip over in the sodden soil. Inland, following the storm, contractors in Gulf Shores cut up and hauled over 500,000 cubic yards of vegetative debris off the roadways and private properties.
Hurricane Sally's rain caused significant infrastructure problems as well. The inundation of rain on condominiums and houses caused roofs to fail, windows to leak, and rainwater to blow into different levels of the buildings. Because of this water intrusion, many condominium buildings had to be completely gutted and re-sheet-rocked from the inside out to avoid mold and further water damage. Building rubble was hauled off the beach in significant amounts.
Emergency Chain of Command
The city of Gulf Shores uses the Incident Command System (ICS), under guidance of the National Incident Management System (NIMS), which helps city governments achieve critical communications, efficiently resolve community needs, obtain appropriate support, and navigate any situation, including natural disasters and the COVID-19 pandemic. In addition to Brown as the PIO, the city's ICS comprises the mayor of Gulf Shores as Incident Commander, the city emergency manager and chief building official (who serves in a dual role), the city police chief, and the city fire chief. This group synthesizes available information, evaluates the risks related to an oncoming threat, and acts on information and weather reports from the National Weather Service (NWS) in Mobile, NHC, and the National Oceanic and Atmospheric Administration (NOAA). They also collaborate with NWS to monitor storm activity and understand the exact timing, intensity, and location predictions for weather threats. That information is acted upon in multiple ways — the PIO makes sure that city decisions as well as necessary public safety information are disseminated to their partners and the public in a timely manner.
Off-Season Planning
During a typical hurricane preparation period, the city gathers partners from NOAA, state park representatives, members of the local chamber of commerce, and city tourism bureau officials for an executive conference in which intelligence is made available for expert opinion. These advance meetings are crucial to emergency preparation for the city, as they get each department on the same page before an event occurs. It is particularly important that Gulf Shores' tourism partners are involved in this planning process, as the rural community's regular population grows over 5 times larger during peak tourism months.
Planning for Tourism
According to the 2020 U.S. Census, the population of Gulf Shores was reported to be a little over 15,000 residents. However, during the city's peak tourism season, between Memorial Day and Labor Day, the city's population easily increases to over 80,000 people. The beach offers around 16,000 rentable condominiums and beach house lodgings, and the city reports nearly 7 million visitors annually. If a storm requiring evacuation occurs under these circumstances, the process can take up to several days due to the large number of people and vehicles that must leave the island through limited evacuation routes.
The city's southernmost point dead-ends at the Gulf of Mexico, so evacuees cannot go south to escape a storm. Traveling eastward into Florida is difficult, however, as it requires drivers to maneuver backroads and cross bridges before arriving in Pensacola. Further, the westward route out of the city is a nearly impossible escape during a storm. The westmost end of Gulf Shores dead-ends at Fort Morgan, which then requires a ferryboat to cross Mobile Bay into Mobile County. Regardless of whether an evacuee could utilize these routes, if a hurricane is headed toward Gulf Shores, neither Florida nor Mobile County are safe evacuation destinations due to proximity and storm surge. Therefore, Gulf Shores' primary evacuation route is due north.
Unfortunately, peak tourism season in Gulf Shores largely corresponds with hurricane season. According to NHC, the official Atlantic hurricane season lasts from June through November, with the occasional outlier. Historically, Gulf Shores has experienced their worst climatic events in August and September. This disadvantageous overlap causes financial and tourism-related challenges for the city. When an event such as a hurricane or pandemic interrupts summer business, it is significantly more detrimental to the city tax base than if the event were to occur outside of the "one hundred days of summer" period.
Regarding tourism, visitors to Gulf Shores are more likely to be unfamiliar with the area, may be inexperienced with hurricanes or tropical storms, and might be unwilling to leave their vacations in the event of an extreme weather prediction. This, along with the total increase in population resulting from tourism, must be accounted for during preparedness planning. Further, when city officials deem an approaching storm system significant enough to merit evacuation, visitors and residents cannot be legally required to leave without the governor of Alabama issuing a state of emergency mandatory evacuation order. There are many factors that influence voluntary decisions to evacuate; however, visitors will only receive a refund for their rental units if the governor has mandated evacuation. These are some of the challenges rural tourist destinations face, especially those that experience big weekend, summertime, or seasonal population swings.
Gulf Shores' tourist season is getting longer, Brown shared, meaning there is less of a big summer spike. This flattening of the daily average visitation is a positive for the rural coast community, as less seasonality reduces the burden of emergency planning for the summertime. The city maintains proportionately sized essential services to accommodate the larger tourist-population surges, including the city police and fire departments. The city has the emergency response capacity of 52 sworn police officers, over 60 firemen, and 5 fire stations that remain manned 24 hours, 7 days a week.
In addition to planning for tourism, the city also must plan for new residents. According to the 2020 U.S. Census, Baldwin County was one of the fastest growing counties by percent change in population in Alabama, despite it being largely rural. Emergency planners must account for a large percentage of people who had never lived on the Gulf Coast during hurricane season. Hurricane Sally was the first hurricane to directly impact Gulf Shores in years, and the number of new residents made proper hurricane preparation, response, and recovery trainings even more important. Brown educates seasonal residents who move to the beach during colder months on Gulf Shores' history in terms of storms and natural disasters, to initiate them into what life is like living on the Gulf Coast. Brown emphasized the importance of making sure people understand the dangers of living on the coast — as long as people are aware, there is "no reason to lose one's life" during a storm.
Hurricane Response
The response process starts in the days leading up to a storm — multiple days in advance of Hurricane Sally's projected landfall, the city ICS had nonstop meetings and communications. They worked closely with recovery contractors to ensure equipment was staged appropriately and response teams were on standby. No one slept as the storm moved over the city, said Brown. At daybreak, after the storm passed, response teams mobilized to start immediate assessments. For the first 4 to 5 days after Hurricane Sally made landfall, Brown recalled, "You don't slow down, you don't think about eating, you don't think about anything except for just going through the motions." He called this state of mind "storm mode," as responders activate plans and manage ground zero all day, every day, until outside help arrives.
About 4 days after the storm, the Red Cross arrived and set up food areas for response workers and residents. At that time, the Fraternal Order of Police's (FOP) Disaster Area Relief Team (DART) also sent volunteers from a police department in Louisiana to Gulf Shores. They set up a canteen in a community parking lot from which they cooked food for several days for first responders and utility workers; anyone who needed a meal was welcome.
Evacuation Procedure
During both mandatory and voluntary evacuations, timing is key to ensure all residents and tourists are safely out of harm's way before a storm makes landfall. When a storm is declared a state of emergency by the governor of Alabama, Baldwin County and the city of Gulf Shores implement an evacuation plan through a zoning system. The Baldwin County Emergency Management Agency (BCEMA) outlines hurricane evacuation zoning and protocol, and the Gulf Shores Emergency District Map outlines the south Baldwin County evacuation operational order. Homeowners are assigned hurricane re-entry decals for their cars that denote their evacuation zone based on home address and identify those allowed back into restricted areas post-storm. This high level of organization is necessary, as there are only two viable routes out of the city during a storm evacuation.
The two roads to travel north out of Gulf Shores run parallel to each other and include the main corridor, Highway 59, and the newer addition, the Foley Beach Express. Both roadways have bridges that connect the beach to the mainland. Over 5 million vehicles cross the Holmes Bridge annually. The Foley Beach Express Bridge also has significant traffic. This infrastructure is vital to the regular as well as emergency traffic in and out of Gulf Shores. The city has been encouraging the state to build an additional bridge that will help get people off the island in emergency situations.
Neither of the roadways will take evacuees directly to Interstate 65, to travel north, nor Interstate 10, to travel east or west. Therefore, without an easily accessible, direct escape route, the only thing that evacuees from Gulf Shores have going for them is time. If people do not act when voluntary evacuation calls arise, there comes a point when time runs out and only so many cars can make it across the bridges before a hurricane makes landfall. That, stated Brown, is the city's "biggest fear."
Long-Term Recovery
The city has several contracts it executes annually to ensure the recovery process begins quickly and easily. One partner, CrowderGulf Disaster Recovery and Debris Management, is a large construction company that has access to heavy machinery and equipment — it contracts with additional haulers and makes up the city's emergency debris removal standby team. When the annual contract is agreed upon, CrowderGulf is put on notice for hurricane season and paperwork is completed ahead of time. As soon as a storm is over, the recovery process starts and debris removal teams "hit the ground running." It is vital to start recovery work as soon as possible after the storm, so having pre-positioned, pre-planned partnerships in place with various businesses can help the community tremendously.
Additionally, maintaining a close relationship with utility providers, such as power and water, is paramount. Having close-knit partnerships in place allow the city and the utility providers to collaborate, focus attention, and determine true estimates for utility service recovery. These relationships are vital and must be fostered throughout the year to produce the best results.
Drone-Enabled Surveying
The city has plans in place to utilize drone technology in the recovery process from a storm requiring evacuation. There was no mandatory evacuation order issued for Hurricane Sally, which caused complications of its own. However, one significant barrier in the recovery process following an evacuation is the influx of residents returning to a disaster area to check on their properties. To mitigate this issue, the city plans to mobilize drone technology to remotely survey property damage, particularly on the beachfront, and disseminate the photographs via an official webpage. This will help deter those who have evacuated, as well as those who reside primarily in different areas of the country, from returning to the coast immediately. This is important for two reasons. Firstly, the city needs time to survey properties and infrastructure so that they may deem them structurally safe and free of hazards. Keeping traffic low provides city officials the time to perform more extensive windshield assessments, in which they drive around the city to document specific damages to both private and public properties, based on what they can observe.
Secondly, incoming traffic to the coastal town during the early recovery stages of a storm is a hindrance. During this time, clean-up crews are working to clear the roadways of debris; utility workers and linemen are working to restore essential services such as power and water; and first responders may be performing search and rescue operations, wellness checks, or emergency triage, depending on the scale of the event. An influx of residents in the city not only puts their safety at risk, but can also jeopardize the safety and speed of recovery efforts. Additionally, if a storm has had a significant impact on essential services, it is important to the recovery process that any available housing, food, or fuel resources be allocated to first responders and emergency management personnel, rather than general homeowners who could remain away for the immediate duration of recovery efforts.
Success Factors
Past Experiences
Gulf Shores has experienced the full gamut of storm-related activity, including near misses, small tropical storms, and large hurricanes. Emergency planners for the coastal community know what to expect from a storm, understand how to respond, and know that working with the Federal Emergency Management Agency (FEMA) will take time. The City Council had already moved their operations to virtual platforms, due to the COVID-19 pandemic. Having that technology in place made the dissemination of emergency communications information to the public easier.
Proper Planning
After every storm, the city reviews their emergency plans and adjusts based on lessons learned. Annually, they assess the Continuity of Operations Plan (COOP) prior to hurricane season to ensure it is up to date with appropriate names, contact information, and trainings for personnel. Turnover within the agency may result in staff that have never personally experienced a hurricane — those members, in addition to veteran employees, attend regular trainings and hurricane conferences, such as the National Hurricane Conference. Refreshers on the ICS process and emergency government communication flows help ensure that responders are well-versed in response and recovery activities before the storm. Brown noted that having these plans in place helps "encourage communities to not just put their plan on the shelf" until an event occurs.
Funding Recovery
The city routinely applies for Hazard Mitigation Assistance Grants through FEMA. These funds activate during an emergency and help the city be more self-sustaining through use of generators, communications equipment, and vehicle upgrades. Another aspect of the community's financial sustainability is the reserve fund. The city must pay every expense incurred during the recovery process, including employee and contract expenses. The federal government provides disaster recovery reimbursement funds to governments and nonprofits. However, reimbursements are sometimes not distributed until 6 to 12 months after the disaster occurs. Therefore, the city must ensure ready cash is available or establish lines of credit through a partner bank to be able to pay for disaster recovery in the moment. For Hurricane Sally, Gulf Shores spent over $26 million in recovery before it began receiving reimbursements from FEMA.
The city hired a contract company to act as the intermediary between Gulf Shores and FEMA. This partner was familiar with the specific documentation process needs and handled all paperwork and reimbursement requests. The partnership helped the rural city bridge their knowledge gap of FEMA procedures, and their consultants were on standby with the ability to mobilize onsite immediately after the storm. The city also maintains a strong relationship with the BCEMA to support the flow of federal funding through proper channels. When the city requests, for example, pallets of tarps to be used in emergency response, they must send a request to BCEMA using a specific tracking number that will follow the request through local, county, state, and federal channels. Without the tracking process, the city of Gulf Shores would not get emergency aid. Following this process ensures that the rural community receives the resources it needs for recovery through a local-driven response. Including the expenses for roofs lost in the storm, damage to the infrastructure of city facilities and the beach front, and community recovery expenses, the damage from Hurricane Sally amounted to almost $27 million. Due to successful partnerships, Gulf Shores had all their recovery expenditures reimbursed by FEMA at the normal reimbursement rates.
Protection from Scams
Disasters present ample opportunities for out-of-town scammers to come into a community and prey on the vulnerable. Most pose as tree and limb removal companies, roofers, or some other form of repair and maintenance services. To help protect homeowners from exploitation after a storm, Gulf Shores suspends the issuance of immediate business licenses and requires company vehicles have a visible business license placard in their windshields to be allowed to drive in restricted areas. These methods, however, are not foolproof. Being patient and working with trusted contractors and maintenance providers, Brown noted, is the best way for homeowners to protect themselves from exploitation.
A History of Community Passion
Gulf Shores has encountered several disasters throughout the years, all of which, Brown noted, have been followed by an economic boom of some sort. The city's history influences the feelings of local passion and intrinsically ties disaster recovery to a sense of community belonging. Residents are proud to have "made it through" disasters, and these experiences strengthen the camaraderie of people. When given the opportunity, community stakeholders band together to support recovery in Gulf Shores. Neighbors in the town are willing to help one another, and that cohesiveness, Brown said, is an asset.
Storm-Related Barriers
Volunteer Safety
Responders face fatigue as they push through the response and recovery process in a disaster zone. Outside agencies, such as the Red Cross and non-local police departments, help alleviate some of the burden for local responders. However, large groups of uninitiated volunteers trying to help can be a hindrance to recovery efforts, particularly directly following a storm. Individuals, as well as groups of volunteers, are not self-sufficient enough to enter a disaster zone that lacks the bare necessities of food, water, power, and shelter; this can become another issue that falls to first responders. Instead of arriving independently, Brown suggested that unaffiliated individual volunteers looking to help with disaster recovery apply to do so through the National Voluntary Organizations Active in Disaster (VOAD) coalition. The city has a staff member that directly coordinates activities through VOAD when volunteer aid is needed. Additionally, he noted "donating to the Red Cross is probably the best thing people can do," as they are equipped to mobilize in an organized fashion with an abundance of resources. Once a disaster zone is revived from ground-zero status and businesses start to reopen in the community, independent volunteers are welcome, as the city response teams have had a chance to identify specific needs in the community. However, for the safety of everyone involved, it is best practice to allow the organizations with resources on the ground to respond during the early stages of a disaster before inviting independent volunteers into the recovering community.
Accidental Injuries
Most storm-related injuries occur after the storm has passed. Without appropriate storm safety training, the odds of dangerous accidents increase. After a storm, individuals may be climbing on roofs to make repairs or secure tarps, using chain saws and other equipment they are unfamiliar with operating, or attempting to restore electrical power on their properties. One example that can be deadly is running home generators without proper ventilation for carbon monoxide. Unfamiliarity with these recovery processes must be addressed during the pre-storm planning stage to mitigate injuries and fatalities. The immediate recovery period, Brown noted, can be potentially more dangerous than the evacuation process or even the storm itself.
COVID-19-Related Barriers
During Hurricane Sally, COVID-19-related safety protocols fell in priority for emergency managers and residents in Gulf Shores. Masking and social distancing measures in the humid, chaotic aftermath of the storm were forgotten by some and reinforced by others. A hurricane already presents a host of challenges for the island community of Gulf Shores — however, the added threat of the pandemic created new concerns that the city had never encountered before.
Planning Disruptions
In the case of the COVID-19 pandemic, ICS planning functioned differently than in any previous disaster or event. The Gulf Shores municipality quickly adopted COVID-19 safety protocols, such as mask-wearing and social-distancing through use of virtual meetings and limited in-person contact. However, the ICS key group of essential workers had to maintain some onsite planning and preparation for the upcoming hurricane season. COVID-19 was a threat to critical personnel. Some employees in high-priority roles became sick, resulting in disruptive gaps in the workforce, as preparation teams performed drills and mock events that mapped through the first-72-hours steps in disaster response. What was typically a well-thought-out, structured plan was threatened by the fact that repetitive exercises and trainings could not be completed correctly. COVID-19 safety restrictions such as this created new challenges through the necessity of limiting potential exposures.
Threats to Response
Like many tourist destinations, the COVID-19 pandemic significantly impacted Gulf Shores' tourism earnings and created financial problems for the tourism-reliant community in 2020. Brown noted that had the city not had good reserves, Hurricane Sally would have had a much more devastating, lasting impact. The city was well-prepared with disaster response and recovery funding; however, businesses and individuals in the community were still impacted by the island's low tourism visitation.
Slowed Recovery
Typically after a storm, business booms for tradesmen, carpenters, home improvement stores, and lumber warehouses. However, supply chain shortages due to the COVID-19 pandemic interrupted the rebuilding and recovery process, not only for Alabama but for communities along the coastal United States that had been impacted by the overactive 2020 hurricane season. Immediately after Hurricane Sally, Brown said there was a "lack of everything." Hurricane Sally was not the only storm that caused damage across the Gulf Coast; Hurricane Laura decimated Lake Charles, Louisiana, only a month before, in August 2020. Emergency planners in Gulf Shores had no context to understand exactly how supply chain delays and shortages would affect their community until they were in the middle of the recovery process.
Lessons Learned
Dangers of Underestimating
The city was expecting a category 1 hurricane with minimal anticipated damage. Instead, Hurricane Sally grew in strength very quickly to a category 2 hurricane, leaving many people caught in their homes "that should not have ridden through the storm." Brown noted that the city would have been in agreement that the governor should mandate an evacuation to get more people out of town. The evacuation process is highly organized, so that in the event of an emergency, there is a level of order to help things go smoothly. The benefit of a hurricane, compared to other natural disasters, is that emergency planners and weather forecasters can monitor storms as they form. In other words, they see the storm and have a chance to prepare. The biggest lesson learned from Hurricane Sally is to never underestimate a storm. Circumstance surrounding a storm's projected path, anticipated intensity, or any other number of factors can change very quickly — it is dangerous to be caught off guard.
While Brown emphasized the dangers of underestimating a storm, he also noted the fine line that exists between proper caution and "cry-wolf syndrome." The city must be careful with how they handle hurricane preparation. If they are perceived to over-dramatize a potential storm, both residents and tourists may lose faith in the accuracy of future predictions. This may result in a skeptical attitude that can then trickle into future storm preparation decisions in which individuals may perceive a hurricane to be less dangerous. They may, therefore, forgo voluntary evacuations or other preparation activities.
Hurricane Sally was the first direct hit to Gulf Shores in years; the swiftness with which circumstances changed throughout the course of this storm has emphasized the need for appropriate preparation even when a storm is not projected to directly affect the Gulf Shores coast. It is the city's goal to help individuals understand both the necessity of proper storm preparation and the possibility that a storm may quickly worsen in severity. Regardless of the problems related to cry-wolf syndrome, the biggest lesson learned from Hurricane Sally is that one can never over-prepare for a storm.
Mitigating Fatigue
Another factor that Brown noted could have been improved during response to Hurricane Sally was critical personnel shift management. He noted that the city could have improved communication by better organizing shifts and rest periods. As PIO, for example, Brown has only one other person who helps in his role — they were both working on the same day, which resulted in overnight communications going silent. There came a point, he said, in which they could no longer respond to questions due to exhaustion. Fatigue can be dangerous in a disaster situation because judgment can become clouded and people may get hurt. Staggering shifts allows for 24/7 coverage by disaster response and recovery personnel, with the added benefit of creating a period of rest for critical staff.
Advice
For rural communities or organizations responding to extreme weather events, Brown suggested:
Maintaining Reserve Funds
Having emergency funds set aside for disaster response allows governments and organizations to respond quickly and acquire the resources they need to help their communities rebound. Designating a personal reserve fund to be used in emergencies is also a useful preparation tactic for individuals and businesses. Ready money can be used to make repairs until insurance reimbursements are processed.
Using Time Wisely
While weather forecasts may not always be exact, being prepared for a potential storm is important and weather predictions should be taken seriously. Hurricanes are monitored days in advance. That time can be used to prepare for the storm and activate an emergency evacuation plan.
Accessing Tools
There are a host of tools available to the public to assist in disaster preparation and expectations. Brown recommended ready.gov as a starting point for individuals and organizations that want to be prepared.
Person(s) Interviewed
Grant Brown, Director of Recreation and Cultural Affairs, Public Information Officer
City of Gulf Shores, Alabama
Opinions expressed are those of the interviewee(s) and do not necessarily reflect the views of the Rural Health Information Hub.