COVID-19 Community Impact Mitigation: COVID Caring Cash Program Provides Economic Relief to Local Businesses in Richland Center, Wisconsin
What Happened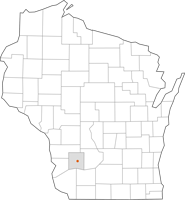 In the midst of the COVID-19 pandemic in April 2020, small businesses in rural Richland Center, Wisconsin, were struggling to stay afloat as community members were avoiding shared indoor spaces due to possible COVID-19 transmission. Many businesses lost their regular traffic and were forced to shutter their storefronts to manage the economic burden of the pandemic. These businesses are an important part of the community, which is home to a little over 5,000 people. To mitigate some of the economic burden of the COVID-19 pandemic in the rural town, Southwest Partners (SWP) developed the COVID Caring Cash program to encourage COVID-safe consumer traffic on the local level, rather than turning to online delivery services or large national chains.
SWP is a 501(c)(3) nonprofit community development corporation based in Richland County, Wisconsin. SWP co-founders, Mick Cosgrove, who serves on the executive board as Treasurer, and Mike Breininger, who serves as President and economic development lead, spearheaded the COVID Caring Cash program to alleviate pressure on local "mom and pop" stores in their rural community. By day, Cosgrove is a financial advisor and Breininger is a pastor who serves in multiple community roles, including as Chair of the Economic Development Board for the city and county. Both have been longtime, active members of the community and developed SWP in 2011 as "a pathway for good ideas to become reality." SWP has grown to be a trusted institution in the community, which has allowed them to quickly mobilize when community needs arise.
COVID Caring Cash was a program through which Richland Center residents could purchase redeemable vouchers in $5 increments to be used at participating local stores. When residents chose to buy $25 worth of cards, they would receive an additional $10 as an incentive to shop locally, in accordance with state-mandated COVID-19 safety measures in place at the time. The COVID Caring Cash cards could be purchased by residents at local banks, through the drive-through as an increased COVID-19 safety precaution. COVID Caring Cash was funded by a pool of donors, including some of the larger employers in the city, as well as participating banks. Any business in Richland County that wanted to accept COVID Caring Cash cards were welcome to participate, and the popularity of the program spread like wildfire. Every Friday, Cosgrove would collect the cards from the businesses and write them a check for the amount redeemed at their stores – through this process, the COVID Caring Cash program achieved its dual goal of both increasing business in local shops and making the resulting money available to business owners on a weekly basis.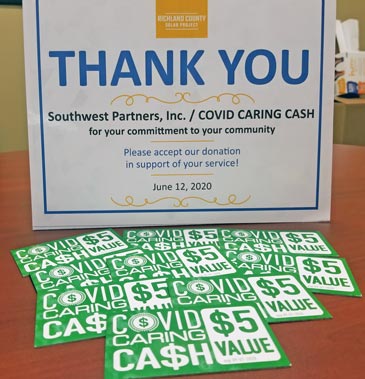 Local businesses of all types, including paint stores, coffee shops, hardware stores, furniture stores, restaurants, and even salons participated in the program. For some businesses in the community, the COVID Caring Cash program meant "the light bill got paid," noted Cosgrove. For some shops, such as hair and nail salons, participation meant selling gift certificates to be used at a later date when COVID-19 safety precautions would allow. SWP worked with the media to promote COVID Caring Cash as a way to help businesses in the community survive, even when patrons could not shop or dine in-person. To ensure that the COVID Caring Cash money was circulated in the local community, the program end date was set to September 1, 2020 – all COVID Caring Cash cards must have been used or redeemed by that deadline. By the closing date, the program generated over $300,000 of impact in the Richland Center community.
Planning
SWP was established as an organization with trust from community stakeholders, which enabled it to quickly implement COVID-19 relief. SWP has undertaken multiple community enrichment projects over the years; Breininger noted that some of these activities were planned years in advance. The COVID Caring Cash program, however, was "shot from the hip" for a quick response. The nature of the COVID-19 pandemic left SWP with very little time to plan.
Response
To ensure the quick response, SWP collaborated with a local printer to develop the COVID Caring Cash cards. The development team wanted participating businesses to receive 100% of the profits from COVID Caring Cash transactions, with no additional fees. They opted to create cash-like exchangeable vouchers rather than credit cards. It was important that the COVID Caring Cash cards were not easily duplicatable, so they special-ordered a unique cardstock from Minneapolis. SWP initially partnered with 3 banks in the community that served as sponsors and distribution points for the COVID Caring Cash cards. By the end of the project, 5 local banks were participating.
In the beginning stages of the project, Cosgrove spent days visiting local businesses to explain the COVID Caring Cash program. In addition to working with the media, he presented local merchants with a brief overview of the program, put up posters, and worked with stores to get the word out to consumers. It took a couple of days, said Cosgrove, but once 10-15 businesses were onboard and signs advertising the program were up around the town, COVID Caring Cash became popular. Cosgrove pointed out that money goes further when leveraged to be used in the community. SWP used their community connections to get sponsors to support the project.
As the COVID Caring Cash program went on, more local businesses joined each week. One goal of the COVID Caring Cash program was to keep businesses in Richland Center open, so those businesses could support the community in the future. Through this program, SWP developed new partnerships and fostered new relationships for future projects.
Recovery
SWP continues to encourage the community to shop local and has partnered with the local media to bring light to the struggles small businesses face. SWP's goals with the COVID Caring Cash program were to support the community and help businesses survive the financially difficult stages early in the COVID-19 pandemic. Following the end of the COVID Caring Cash program in September 2020, some businesses told Cosgrove they experienced higher volumes of holiday traffic later in 2020. Others attributed their survival throughout the pandemic to the COVID Caring Cash program. Following the end of the COVID Caring Cash program, SWP collaborated with the community for a t-shirt campaign to support shopping local. Residents were encouraged to wear the green shirts every Friday. By creating new networks and further proving their credibility, SWP fostered relationships that will help them to better serve the community in the future. In anticipation of community needs, SWP works closely with the local hospital and clinics, healthcare providers, and the rural healthcare cooperative, in addition to their other community partners.
Success Factors
Relational Networks
SWP attributes their biggest successes to their people connections and relational networks. By having these established relationships in place, SWP has developed the groundwork needed to act quickly. SWP's approach to preparedness, said Breininger, is to establish these vital connections before a disaster strikes. This "relational currency" means that SWP is a legitimate community resource that can provide response and relief when needed. Connecting and communicating with people, noted Breininger, is more of the work than the actual projects that they complete — and during an emergency, developing these relationships is even more important.
Volunteer Corps
The volunteer corps at SWP was essential for the success of the COVID Caring Cash project, said Breininger. While Cosgrove spearheaded the rollout of the project, volunteers were essential for activities such as distributing the COVID Caring Cash cards to the banks and picking them up from the businesses. Volunteers also helped other activities go more smoothly by putting the word out in the community through radio station segments, press releases, and other media.
Proven Track Record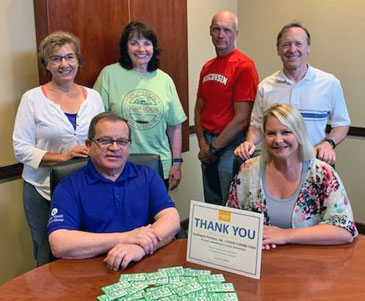 SWP has completed multiple beneficial projects throughout Richland County that have garnered the respect and attention of residents, banks, and businesses in the area. Some examples of prior projects include the multi-million-dollar fundraising, construction, and completion of a community aquatic center; the opening of a new river recreation and camping area; and a tribute honoring the 2020 graduates of local high schools and universities whose graduations were canceled due to the COVID-19 pandemic. While these efforts were not emergency response, Breininger noted that the organization's track record of achievements proved necessary when their focus pivoted to emergency relief.
Community Cares
The people in a community are the strongest asset for emergency response and relief, noted Cosgrove. The willingness of the community to help one another through a crisis helped SWP to create a structured environment where "people of goodwill" could plug into a larger effort. When the COVID Caring Cash program created a space for the community to help one another, it created a successful network for local readiness and support.
Barriers
Demand
SWP had to keep close control of the number of COVID Caring Cash cards circulated in the community, especially as the program quickly grew in popularity. Originally, SWP intended for COVID Caring Cash card circulation to be open-ended in terms of how many cards an individual could buy at one time. However, they quickly learned that a cap on daily individual purchasing was necessary, due to high demand. Making sure that each dollar was backed by a matching donor contribution was one of the most important concerns. Since the high demand for the program was not anticipated, staying on top of accounting to ensure that all printed vouchers were supported by sponsor-backed funds was a considerable undertaking. Additionally, SWP maintained ongoing contact with sponsors to ensure continued backing and support.
Logistics
Logistical concerns were another challenge to the project. SWP had to make sure enough cards were printed, on time, and with additional money coming in through sponsorships. One instance resulted in a volunteer driving to Minneapolis, about a 4-hour drive from Richland Center, to pick up cards on the specially ordered cardstock, so that the next batch of COVID Caring Cash cards could be distributed without delay.
Lessons Learned
Moving On
The original barrier to the COVID Caring Cash project was some reluctance on the part of businesses. However, most of the hesitant businesses decided to participate, and many business owners and residents alike asked for the COVID Caring Cash project to be revived in the following year. However, "knowing when to let it go and move on" to different projects is an important piece of emergency relief, noted Breininger. SWP refocused their efforts once the COVID Caring Cash project made its intended impact to avoid burnout and strategically place their resources where they could be used best.
Human Need
The COVID Caring Cash program was an exercise in learning how to identify the human needs that require solutions, without creating the needs artificially. SWP had to understand the community needs and how best to meet them. These processes do not happen accidentally — said Breininger, they are a result of collaborative efforts that start before the disaster occurs. SWP was not created to be a disaster or emergency relief effort; however, when the community needs arise, Breininger said SWP will be there to provide support. The organizational structure of SWP allows them to be able to implement immediate relief and successful response in disaster or emergency situations.
Advice
For rural communities or organizations implementing relief efforts like the COVID Caring Cash program, Cosgrove and Breininger suggested:
Establish relationships to be successful. The relational piece can make or break any relief efforts.
Think outside the box. Just because something has always been done a certain way does not mean that it will fit a unique time or situation in the community.
Do not be afraid to try to make something happen. Humans typically want to help one another, said Cosgrove, so creating an outlet into which the community can invest allows them the opportunity and ability to do so.
Get out ahead of the disaster. Breininger emphasized the preparatory element of emergency relief as essential. It is helpful to get the community together, build connections with "like-hearted people," take on smaller projects, and create a history that can be used to the advantage of the community when an emergency occurs.
Person(s) Interviewed
Mick Cosgrove, Treasurer and Co-Founder
Southwest Partners
Mike Breininger, President and Co-Founder
Southwest Partners
Opinions expressed are those of the interviewee(s) and do not necessarily reflect the views of the Rural Health Information Hub.